How to Wash and Clean Your Bape (Hoodie, Shirt, Cap)
Here's a detailed guide on Bape washing instructions for different Bape items. Taking proper care of an item of clothing is essential for its long life and continued wearability. Thankfully, by knowing how to wash it carefully, you can extend its life by several years. This might sound like a pretty simple procedure, but most apparel is worn out by improper handling and not normal wear and tear. Therefore, it is on you to ensure that you can enjoy your favourite BAPE hoodies, t-shirts, and caps for as long as possible before you need to buy a new one.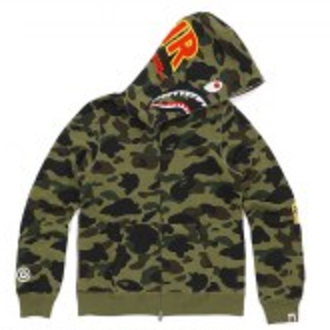 How to wash your Bape hoodie properly
Can you put a Bape hoodie in the washing machine? The answer is Yes but make sure to follow the washing instructions properly:
- Because hoodies are not worn directly over skin, they do not need to be washed frequently. Wash them only when necessary.
- Turn it inside out and close any zippers and buttons before washing.
- Wash in cold water with a mild detergent. Avoid bleach when washing a hoodie.
- Use a gentle wash cycle and avoid any aggressive action.
- Wash it by itself or wrap it in a lingerie bag if washing with other clothing.
- Do not use a dryer as the additional heat may cause shrinkage. Hang it up or put it under a fan to dry.

Here's a quick Youtube video on how to wash your Shark hoodie.
How to wash your Bape t-shirt/tees properly
- Turn it inside out before washing and during drying. Most of the grime comes from sweat which is collected on the inside of the t-shirt. Drying it inside out protects the print from fading.
- Avoid bleach; they can fade and peel off any screen prints or appliques on the t-shirt.
- Wash in cold water using a mild detergent. Do not use harsh chemicals that can affect the fibres or the print.
- Do not soak your t-shirts for too long. A good rule of thumb is one hour for worn shirts and 30 minutes for new ones.
- Always wash your whites separately from any coloured garments.
- Use a liquid softener after washing to keep the fibres soft and supple and long lasting.
- Note: If you have a Bape shorts just follow the same instruction above.
How to wash your Bape cap/hat properly
- Wash your cap in warm water and a spoonful of laundry detergent.
- Spot clean any particularly dirty areas or stains by putting some detergent on an old toothbrush and applying it directly on the area. For sweat stains, use shampoo instead. Do not use vigorous action around threaded areas and stitching.
- Soak your cap for an hour or so. Check for any stains that stand out and scrub them off using a toothbrush.
- Thoroughly rinse the cap in warm water to get rid of any detergent or soap residue.
- Remove any excess moisture with a towel and leave it on a counter or window to dry.
By following these few simple steps, you will find that your favourite BAPE products will last a lot longer than they used to. Also, you would look a whole lot better wearing clothes that look as good as new!